Commercial Cleaning Company with a Professional Staff in Houston
Our janitorial staff are trained professionals with a solid work ethic. Management and communication along with years of experience make our commercial cleaning company team, the standard by which all others are judged.
Top 5 of the best Commercial Cleaning Companies
According to Houston Business Journal, we feel so proud of being part of the TOP 5 of the Best Commercial Cleaning Companies in Houston.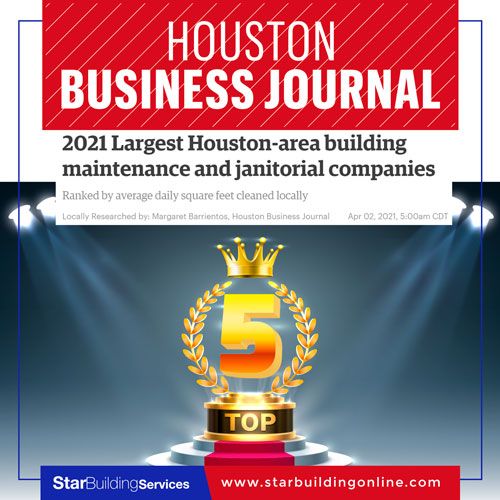 Star Building Services works in close partnership with clients to develop customized janitorial programs to suite location-specific needs.
We understand that different industries require different Commercial Cleaning and janitorial solutions, and we have the knowledge and experience to provide efficient and cost-effective janitorial services in many different types of work environments.
RECOGNITIONS AND CERTIFICATIONS:
WE ARE A BBB CERTIFIED COMPANY
Great customer support and provide excellent customer service.
We know how to get the job done and give it our very best to do it right..
We are well established and highly reputable very qualifed to do the job right.
Our Foundation is secure and our management and leadership is strong.
We have a reputation for excellence and clients refer us to their colleagues.
We know how to get the job done and give it our very best to do it right..
We provide practical and measurable methods that are very effective in the workplace.
We have excellent success stories from clients that were 100% satisfied with our services..
SOME OF OUR MAIN CLEANING PROJECTS:
A clean that measures up.
Submit your request online by filling out the form
We are your best cleaning services professionals and pledge to clean thoroughly, completely and reliably.
Call for Free Estimate! : (713) 380 2282